Comments on the Stream Protection Rule (SPR) are due to the Office of Surface Mining, Reclamation and Enforcement by Oct. 26, 2015. You can submit comments online, by mail, or in person at a Public Hearing. Details are below.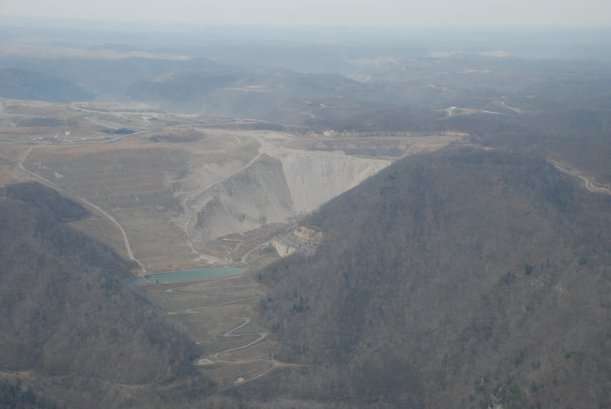 (Birchton, WV valley fill. Flyover courtesy of southwings.org)
For those who cannot, or do not wish to attend a public hearing (see below), OSMRE is accepting written comments electronically at http://www.regulations.gov/#!docketDetail;D=OSM-2010-0018 or by Mail/Hand-Delivery/Courier at:
Office of Surface Mining Reclamation and Enforcement
Administrative Record, Room 252 SIB,
1951 Constitution Avenue NW.
Washington, DC 20240
Please include the appropriate Docket ID: OSM-2010-0018 for the proposed rule, OSM-2010-0021 for the draft environmental impact statement, or OSM-2015-0002 for the draft regulatory impact analysis.
Remaining Public Hearings are at the following locations, all times 5:00 PM-9:00 PM (we recommend arriving an hour early):
Thursday, September 10, 2015
City: St. Louis, MO
Location: St. Charles Convention Center
1 Convention Center Plaza, St. Charles 63303
Thursday, September 10, 2015
City: Pittsburgh, PA
Location: Double Tree by Hilton Hotel Pittsburgh
500 Mansfield Ave., Pittsburgh 15205
Tuesday, September 15, 2015
City: Big Stone Gap, VA
Location: Mountain Empire Community College
3441 Mt. Empire Rd., Big Stone Gap 24219
Thursday, September 17, 2015
City: Charleston, WV
Location: Charleston Civic Center
200 Civic Center Dr., Charleston 25301
Important notes about attending the public hearings:
Bags & purses are checked.
No water or other liquids allowed.
You should sign-up to speak and get a number first.
Coal industry supporters have been turning out in large numbers and lining up early.
Talking points:
1. The "Stream Protection Rule" allows coal companies to fill streams and valleys with a weak requirement to "minimize" damage. A filled stream is not a protected stream. For this rule to be a true Stream Protection Rule, it must not allow the filling of streams.
2. This rule eliminates the previous rule's prohibition on mining disturbances within 100 feet of a stream if the disturbance will adversely affect the environmental resources of the stream. This prohibition needs to be restored and actually enforced.
3. This rule still allows ineffective state regulatory agencies to grant variances from its requirements.
4. The human health impacts from mountaintop removal, by whatever name it's conducted, need to be eliminated by ending mountaintop removal. OSMRE ignores the severity of human health impacts by proposing a rule that does not end mountaintop removal.
Stream Protection Rule & DEIS Talking Points from our friends at Citizens' Coal Council:
1. OSMRE must reclaim the authority that it received from SMCRA to be the primary agency to protect the hydrologic balance from the harmful impacts from surface and underground mining of coal.
2. The SPR must have the effect of preventing damage to the hydrologic balance (physical geochemical and ecological), rather than correcting damage that results from mining and reclamation plans that cause damage. There is no scientific evidence that the physical, geochemical and ecological functions of streams can be restored once they have been damaged.
3. The SPR must be revised to incorporate substantive points made in the preamble that are omitted in the proposed rule itself.
4. The definition of material damage to the hydrologic balance must not narrow the broad authority given in SMCRA to protect the hydrologic balance by limiting the definition to compliance with the Clean Water and Endangered Species Acts.
5. Measures in the SPR to protect the hydrologic balance must apply to all streams, ephemeral, intermittent and perennial, and not be restricted to stream definitions as used in the Clean Water Act.
6. The SPR must address several major issues that have been completely ignored in the proposed rule: 1) the harmful effects on the hydrologic balance of backfilling coal combustion waste in surface and underground mines (all regions), 2) the protection of prime farmland and other farmland from the harmful effects of longwall mining (Midwest and Appalachia), 3) protection of the hydrologic balance of alluvial valley floors (Western U.S).
7. Many new provisions in the SPR for detailed baseline characterization and monitoring of hydrology, geochemistry and biological resources, revegetation and bonding are good and worthy of support.