In 2007 a wind potential study was commissioned to see if there was the potential to place wind turbines on Coal River Mountain. The wind potential study and a subsequent economic study found that it is possible to place 328 MW of wind energy on Coal River Mountain. That's enough to power 70,000 West Virginia homes and provide permanent jobs and $1.7 million in taxes to the county every year.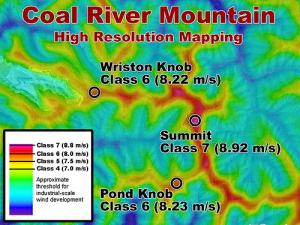 The development of a wind farm on Coal River Mountain has the potential to keep the mountain intact while providing energy and much needed jobs for the surrounding communities, FOREVER. Since the footprint of a wind farm includes only the turbine pads, a few access roads to the ridge and one along the ridge line, the rest of the mountain is preserved and available for economic development and recreation. It is estimated that the proposed wind farm would only lead to the clearing of 50-100 acres of forest – less than 2% of the proposed mining area.
Creating Safe, Long Term, Green Jobs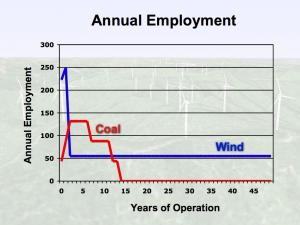 Jobs in coal production last only as long as there is coal to mine. A wind farm, on the other hand, will employ over 200 local residents during the 2 year construction phase, and create 40-50 permanent maintenance jobs afterward. Further, it takes only 27 years for a wind farm to provide a greater number of one-year jobs than the four surface mines combined. A wind farm will also allow the mountain to be used for other economic purposes (including sustainable forestry, mountain harvesting, and gathering of wild forest plants), thus creating additional jobs and the opportunity for stable, supplemental income for local residents. (More on the economic benefits of Coal River Wind).
Creating Renewable Energy
Appalachian coal has fueled the nation for over a century, but it is a non-renewable resource and will run out some day. In 2000, the U.S. Geologic Survey estimated that the most economically recoverable coal in West Virginia would be mined out within 20-30 years. According to the four permit applications, surface mining on Coal River Mountain will produce coal and energy for about 14 years. In contrast, a wind farm will produce energy for as long as the wind blows.
Further, while the initial power output is higher with coal in the short term, wind power will produce far more energy over the long term. Most of the coal that is produced in West Virginia is exported, and so once Coal River Mountain has been mined out, there won't be any coal left to help power West Virginia. A wind farm, however, could produce energy for West Virginia forever. (More on the energy & climate benefits of Coal River Wind).
Recreation and a Safe Environment
Surface mine reclamation is difficult and limited. Four wheeling on a moonscape is a short-lived novelty, hunting is limited, and fishing is rare. While the permitted area may be large for a wind farm, only a small amount of land is disturbed. The only development necessary for a wind farm is an access road up to and along the ridge. These roads often exist from logging and gas wells and require little modification.
Further, wind turbines do not produce any harmful by-products. Windmills add no chemicals to waterways. Coal River Mountain's streams can be filled with native fish species, rather than having to be stocked with non-native fish. Finally, when a mine goes in, access to land is often restricted. There is no need to restrict access to a wind farm and communities are given permission to hunt, four-wheel, gather herbs or hike on the mountain at their leisure.
Press archive News/Op-Eds
A Battle in Mining Country Pits Coal Against Wind
By Tom Zeller, New York Times, Aug 14, 2010.
Dueling PR campaigns compete for coal's fate
By Ken Ward Jr. August 19, 2008
W.Va. group honored for wind power proposal
NEW YORK (Associated Press), September 03, 2008
Environmental Group Turns to the Internet WVNS, WV – Aug 19, 2008
How Wind Farms May Really Replace Coal Mining
By Peter Slavin, AlterNet. Posted August 19, 2008.
Raleigh County Mountain At Center of Coal vs. Wind Debate
Written By Pam Kasey at the State Journal
Obama: A Mighty Wind Awaits You on Coal River Mountain
By Jeff Biggers on the Huffington Post
Millennia-old idea of wind power still a good one
Op-Ed, Charleston Gazette
By Nick Regalado of Rock Creek, WV
Coal River residents suggest wind farm over mining
By Fred Pace at the Register-Herald
Time is Now to Change Vision on Energy Use
Op Ed, Register-Herald
By Bo Webb of Naoma, WV
Blogs
On a wind and a prayer
Posted by Kate Sheppard at 4:19 PM on 21 Aug 2008
An Alternative to Mountaintop Removal Coal Mining in West Virginia
by Greg Haegele, Sierra Club
The Coal River Mountain Plan: Will West Virginia Go Green or Go Backwards?
Written by Ariel Schwartz
Antidote to Coal
Written by Erin Shaw
Coal River Mountain Wind Farm Big Hit at Charleston's MoveOn Meeting
Written by One Citizen at West Virginia Blue
Coal River Residents Suggest Wind Farm Over Mining
Written by Sparki, Rainforest Action Network