Come to Our Hearing May 9; Show Your Support
May 7, 2017
On Tuesday, May 9, we'll be in a hearing to argue why the WV Surface Mine Board should hear our appeal of the 853-acre Long Ridge #1 mountaintop removal permit on Coal River Mountain. Please show up if you can and pack the hearing room. The hearing begins at 9:00, but please show up by 8:30 for a possible press conference outside and to make sure you get a seat. The location is the WV Dep. of Environmental Protection (WVDEP) headquarters at 601 57th Street SE, Charleston, WV 25304. There's plenty of parking at the WVDEP and across the street at the Kanawha Mall. Alpha Natural Resources (the coal company) and WVDEP (the enablers) don't want to allow public participation and have moved to dismiss our appeal before it's even heard. This isn't the actual appeal to confirm or reject the permit, just deciding whether the board will hear the appeal. This will be attorneys arguing, not an opportunity for public comment. Alpha's attorneys are the Jackson Kelly law firm, known for such nastiness as withholding evidence in order to deny black lung benefits to miners and promoting a coal silo next to an elementary school.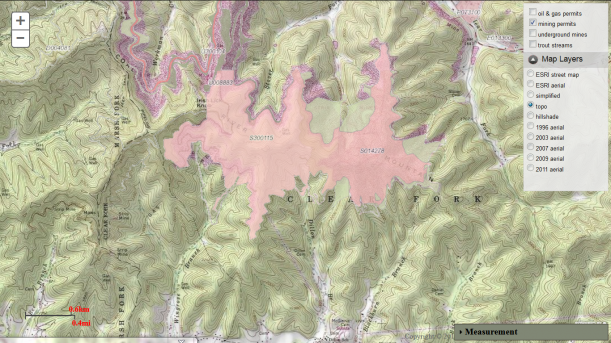 In spite of the public health impacts that it will bring, in spite of 73,000 petition signatures opposing it, in spite of Alpha's long record of violations, in spite of that company being accused of fraud by the West Virginia Dept. of Environmental Protection (WVDEP), the WVDEP approved the permit in December. That's 853 acres, 9 valley fills, 13 sediment ponds, 23 sediment ditches, and 35 pollution discharge points. The planned complex will eventually include 117 stream channels totaling over 30 miles and 10 emergent wetlands. Mountaintop removal is not over. We need your help fighting for our communities' health and viability.
We turned out local opposition, we generated international opposition, and we provided the facts that the WVDEP needed to deny this permit. Instead, they placed Alpha's profits over the health of the people, the protection of the environment, and basic human decency. Please support us as we scale up our opposition to this and the other mountaintop removal permits on Coal River Mountain and everywhere.
We hope to see you there. If you can't make it, please consider chipping in $25 at http://crmw.net/donate.php for gas money. Thanks!