Mountaintop Removal Blasting Above Coal River Communities
Aug 17, 2015
Mountaintop removal is far from over, and bankrupt Alpha Natural Resources continues to force toxic blasting dust into the air our people breathe.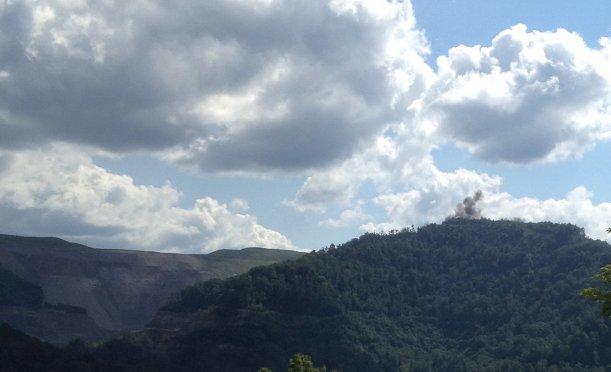 On August 13, Coal River Mountain Watch staff Junior Walk and Vernon Haltom took a reporter up on Coal River Mountain for a view of Alpha's Edwight mountaintop removal site on Cherry Pond Mountain above the communities of Naoma, Pettry Bottom, Sundial, and Edwight. As soon as we got to a good vantage point, Alpha set off two blasts. We watched as the dust and blasting residue drifted straight down into Pettry Bottom and Sundial and into the air that babies, children, senior citizens, and everyone else would be breathing. What we can't see and don't know is the full range of the fine and ultrafine dust, which may remain concentrated for several miles according to scientists.
Please help us spread the word that mountaintop removal is NOT over, "all but ground to a halt," or "slowed to a trickle" as some coal companies, well-meaning but misinformed writers, and "victorious" groups would tell you.
We often host reporters, college groups, and activist groups to come see mountaintop removal for themselves. If you'd like to bring a group, even if it's just a few friends, just contact us. You can also contact us to get on our update/action alert list, and "Like" and "Get Notifications" on Facebook at https://www.facebook.com/CRMWSTOPMTR. And we can always use more volunteers and financial support to keep showing folks the truth and working to end mountaintop removal's threats to our communities.
You can watch a short video of the dust at https://www.facebook.com/CRMWSTOPMTR/videos/1146727188675766