Ruling In Brushy Fork Case Shows Alpha Violating Clean Water Act
Apr 24, 2014
For Immediate Release HUNTINGTON, W.Va.—A federal court has ruled that Alpha Natural Resources' subsidiary Marfork Coal Co. violated water pollution limits at its Brushy Fork slurry impoundment on Coal River Mountain. In a suit brought by citizens' group Coal River Mountain Watch and other environmental groups, Judge Robert Chambers ruled that Marfork, a former Massey Energy subsidiary, exceeded limits for the pollutant selenium. The ruling comes on the heels of Alpha Natural Resources' record settlement with the US Dept. of Justice and the Environmental Protection Agency in March 2014. Derek Teaney of Appalachian Mountain Advocates represented the groups. Flyover courtesy southwings.org Photo by crmw.net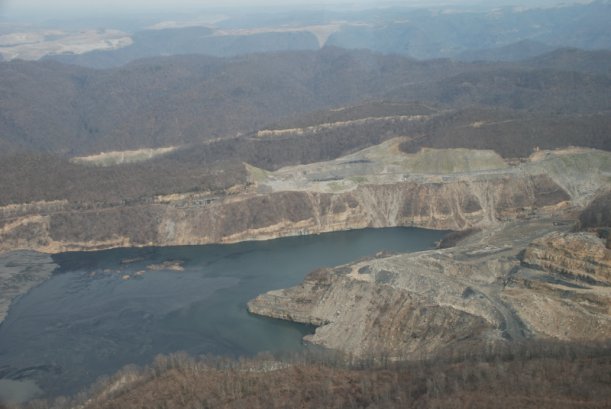 "Again it is the citizens who shoulder the task of making sure these coal companies are 'running right,'" said Coal River Mountain Watch co-director Debbie Jarrell. "Day after day Alpha has violated the W.Va. clean water standards with a chemical at levels detrimental to aquatic life. Headwaters of the Big Coal River are being poisoned. For the future of our area and our children this type of irresponsible behavior from the coal industry needs to stop."
"Even record-setting fines don't seem to deter coal company pollution," said Coal River Mountain Watch executive director Vernon Haltom. "It's a shame that community groups have to do the work of regulatory agencies." In 2008, Massey Energy reached a record $20 million settlement with the EPA for chronic water pollution violations from mountaintop removal sites, violations that the West Virginia Dept. of Environmental Protection (WVDEP) had failed to act on. In March, Alpha again settled with the EPA for chronic violations, this time for $27.5 million plus $200 million in pollution treatment. This violation was not included in that settlement.
"This yet again exemplifies the absence of real enforcement of the Surface Mining Regulations and Water Quality Standards in West Virginia," said Rob Goodwin, a technical analyst with the W.Va. Citizen Action for Real Enforcement (CARE) Campaign. "Alpha Natural Resources has submitted reports to the WVDEP for years showing selenium water quality standards violations at the Brushy Fork coal slurry impoundment. These violations are enforceable and preventable but inaction by the WVDEP puts the burden on citizens to halt pollution." The CARE campaign seeks federal Office of Surface Mining, Reclamation and Enforcement takeover of the WVDEP mining program.