Dumps Are Higher and Better Use of Mountains?
Feb 17, 2018
The coal company demolishing Coal River Mountain, Alpha Natural Resources, has proposed a revision to one of their permits in order to delay reclamation and also bury their used tires. Their justification for the revision is essentially that complying with the regulations will inconvenience their operations. Rather than reclaim part of one permit, they want to keep it unreclaimed as a "start-up area" with a maintenance area, "fuel farm" (whatever that is), and coal stockpile to "serve other permits in the area." There's no justification given for the tire dump, but we figure it's probably just cheaper to bury their tires than to recycle them. Inspectors won't be digging them up to make sure there's nothing else buried, like batteries, used oil, trash, etc, so all that can easily be swept under the rug that is supposed to be a higher and better use of the mountain.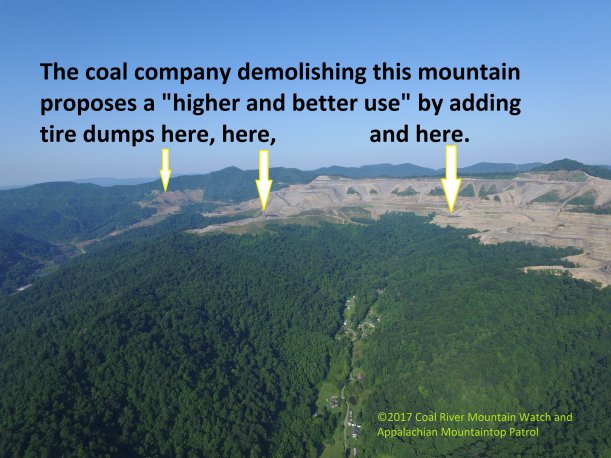 The comment period to West Virginia Dept. of Environmental Protection ends Feb. 21 (Wednesday). Coal River Mountain Watch has requested an informal conference (public hearing) and site visit as allowed by law and submitted the comments below urging denial of this bad idea. Please consider sending comments to WVDEP to deny the revision, including the applicant and permit number below, keeping in mind the WVDEP is required to send your comments and contact info to the coal company. We'll also be running a petition soon to gather comments to deliver at the informal conference. Thanks!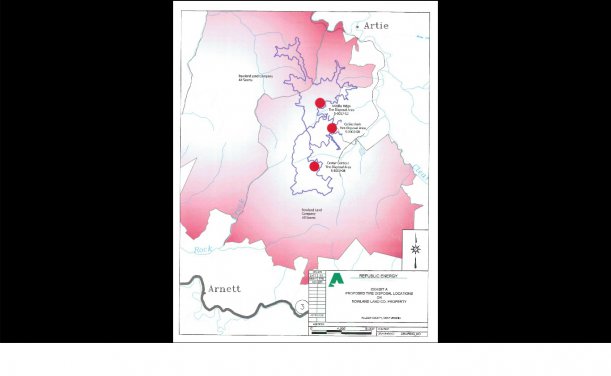 Sent to Dustin Johnson, WVDEP Permit Supervisor at dustin.c.johnson@wv.gov
Comments regarding Revision 7 to Republic Energy surface mine permit S300208:
Dear Mr. Johnson,
Coal River Mountain Watch OBJECTS to proposed revision 7 to Republic Energy surface mine permit S300208. In accordance with WV Code 22-3-20, we request an informal conference at a time and location convenient to the residents of Clear Creek. We request a site visit for the purpose of gathering information relevant to the proceeding no later than 10 days prior to the informal conference.
For the following reasons and more which will be elaborated at the informal conference, we urge that you DENY this application:
-The applicant currently has unabated permit violations on this permit (S300208) and their neighboring permits on this complex.
-The applicant is presently subject to a consent order at the contiguous permit S301712 for a pattern of violations for sediment control. The applicant has shown repeatedly that they cannot comply with something as basic as maintaining a ditch; they cannot be trusted to comply with this permit revision.
-The applicant has demonstrated a second pattern of violations at contiguous permit S301712 for method of operations. Two of those violations were for failure to comply with their reclamation plan, "corrected" by WVDEP granting a contemporaneous reclamation variance. In that permit, the applicant was apparently unable to comply with regulations and unable to plan for the actual conditions of the site, as if the steep slopes, narrow ridges, and ratio of overburden to coal seam were somehow new and unforeseeable conditions.
-This revision further rewards the applicant's inability to properly plan and comply with regulations. If they cannot mine according to regulations, they should not mine. WVDEP should not further endanger the health and safety of nearby residents by waiving the reclamation requirements for the applicant's convenience.
-This revision proposes adding tire dumps to the sites. This is not "higher and better use" of the land.