WASHINGTON – The US Office of Surface Mining, Reclamation and Enforcement (OSMRE) has announced that it is funding an "independent examination of existing research concerning the potential correlation between increased human health risks and living near surface coal mine sites in Central Appalachia." The $1 million study, to be conducted by the National Academy of Sciences, will take two years and comes at the request of the West Virginia Department of Environmental Protection (WVDEP). WVDEP made the request in 2015 after mounting pressure from the Appalachian Community Health Emergency (ACHE) campaign and allied groups to halt new mountaintop removal coal mining permits. The groups organized the "People's Foot" rally event in March 2015 at the WVDEP headquarters in Charleston, W.Va., to demand that no new permits be issued until a federal study determines conclusively that mountaintop removal does not pose a public health threat.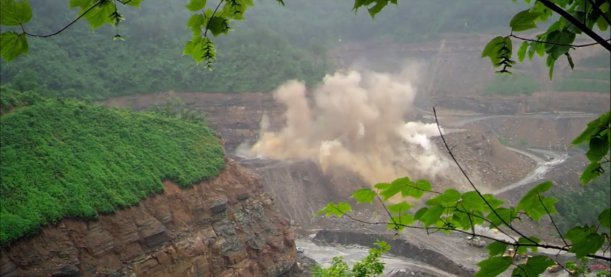 In a press release, OSMRE Director Joe Pizarchik said, "This kind of project represents the best of the Surface Mining Control and Reclamation Act, which was signed into law 39 years ago today. West Virginia asked us in the Federal government for help. We wanted to do the best we could for the people, so we brought the National Academy of Sciences on board because they are one of the world's most reputable scientific organizations. Good things happen when we work together."
"The Appalachian Community Health Emergency (ACHE) campaign welcomes the great news that the OSMRE is finally taking the public health threat of mountaintop removal seriously," said Bo Webb, ACHE campaign coordinator. "We appreciate Director Pizarchik's intent for the OSMRE to do the best it can for the people. Now, permitting agencies such as the WVDEP should follow the precautionary principle and withhold any new and pending permits until the NAS conclusively determines that mountaintop removal does not pose a threat to our lives. Thanks to everyone who helped us organize the People's Foot rally event, especially Coal River Mountain Watch and Ohio Valley Environmental Coalition. Special thanks to everyone who participated to demand that our health concerns be addressed."
"For years, we've seen our loved ones suffer and die from illnesses associated with mountaintop removal," said Debbie Jarrell, Coal River Mountain Watch co-director. "The West Virginia Department of Environmental Protection and other states' permitting agencies need to place public health first and foremost. They should deny or hold off on new mountaintop removal permits, such as those proposed by Alpha Natural Resources on Coal River Mountain, unless and until a credible study proves to us that this process is safe. Until then, the clouds of blasting dust and the existing research tell us that it is not safe."
Congressman John Yarmuth (KY-3) and Congresswoman Louise Slaughter (NY-25) reintroduced the Appalachian Community Health Emergency (ACHE) Act in the US House of Representatives in February, 2015. The legislation, H.R. 912, would require a moratorium on all new mountaintop removal mining permits while federal officials examine health consequences to surrounding communities.
In October 2014, a team of scientists from West Virginia University's Mary Babb Randolph Cancer Center released the first-ever study showing a direct connection between mountaintop removal coal mining dust and lung cancer. Other health impacts associated with mountaintop removal include birth defects and heart disease. Goldman Environmental Prize winner and Coal River Mountain Watch executive director Julia "Judy" Bonds died of cancer in 2011.
In mountaintop removal mining, coal companies use heavy machinery and explosives to remove the upper levels of mountains to extract the coal seams beneath. Some operations are thousands of acres in size and reduce the height of the mountain by hundreds of feet.
More information:
OSMRE press release: http://www.osmre.gov/resources/newsroom/news/2016/080316.pdf
ACHE Act website: http://acheact.org
CRMW website: http://crmw.net
OVEC mountaintop removal health study compilation: http://ohvec.org/issues/mountaintop_removal/articles/health/
###