Paula Swearengin, volunteer for Coal River Mountain Watch, was born in Mullens, WV, and currently resides in Coal City, WV. She attended the town hall event hosted by MSNBC and Sen. Bernie Sanders on March 12 in Welch, WV. She was able to speak directly to Sen. Sanders and share some of her concerns, recorded on a short video with more than 700,000 views here. Then, on March 16, Paula attended the People's Town Hall event in Charleston, WV, where she had some incisive comments and tough questions for Sen. Joe Manchin. That video is here. Note: Sharing these links does imply our support or opposition for any candidate, party, or campaign. Paula has more to say, to anyone who will listen. So here are Paula's words: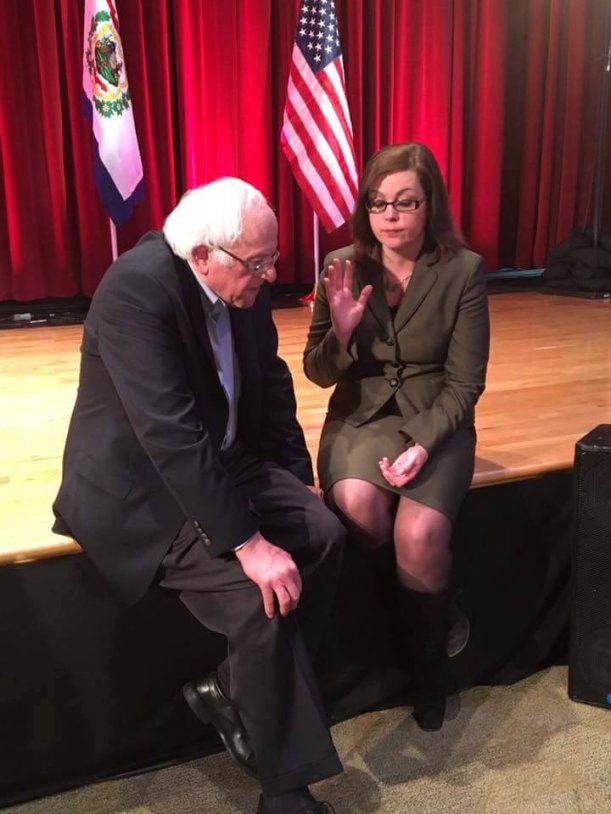 Like most of my generation I was born a coal miner's daughter and granddaughter. I have lived long enough to watch the progression and regression of coal. I have witnessed firsthand the impact it has on our health and communities. I buried my father and grandfather to cancer and black lung. I have lived in prosperity and poverty. I have tasted polluted water. I have tasted some of the cleanest water in the world that no longer exists.
I can't feel but overwhelmed with frustration with what will happen to the people of Appalachia with this administration's promise to bring coal back to the capacity that it once was. This administration has eliminated the Stream Protection Rule and tried to create laws that cater to the coal industry's irresponsibility. They have pretty much sent a message to the Appalachian region that public health and safety don't matter. With the competing market, coal will never come back to the capacity that it once was. However, that hasn't stopped them from mining every single marketable piece and leaving us to contend with the mess.
There is not a stream in West Virginia that that hasn't been impacted and polluted from coal extraction. At one point there were so many explosives let off in a week in Appalachia that it was comparable to the Hiroshima bomb. To name a few places hat no longer exist, Lindytown, Montcoal, Packsville, and Blue Pennant. The people in Prenter Hollow still have water issues. At one point, their water taps flowed with coal chemicals. In this small community, hardly anybody has a gall bladder. Six people have had brain tumors. A coal chemical (MCHM) spilled into the Elk River in Charleston, West Virginia, impacting approximately 300,000 people's drinking water. MCHM is not a stranger to people's water supply in southern West Virginia. Many areas' drinking water has been polluted by coal chemicals for decades. You can't put a number on the people who have been impacted for that long.
The industrial revolution was fueled by the blood of Appalachians. It was built with the blood, sweat and tears of coal miners, their families and people living in surrounding communities. Generations of miners have been buried miles deep in the bellies of mountains and their bodies have never been recovered. That is not a legacy that we want our children to inherit.
Who is responsible? The leaders that serve the coal industry's interests. The industry has spent decades gaining control of us through our leadership. We have the best paid politicians that the coal industry can buy. The propaganda put forth by our leaders and the industry keep us divided enough to keep a lot of us misinformed and resistant to change. There are a lot of poor and desperate decisions made when you are pit against each other for basic human rights like food and water. Relying on false promises and desperation is not going to save Appalachia. People in coal communities have lived in conditions that have us all equally frustrated. We are pawns of a game that shouldn't divide us.
It's time to send this administration a clear message! We are building a united front with Flint, MI, Standing Rock and every area that has been plagued with cultural genocide across the nation! We all are tired of being treated like second class citizens! We no longer want false promises! We want a chance at prosperity, clean water and a safe economic infrastructure! Our children's future is not for sale!