Showing and Telling on the Road
Nov 30, 2017
Coal River Mountain Watch outreach coordinator Junior Walk traveled to East Lansing, Michigan, on Nov. 28 to tell a packed house of community members and Michigan State University students about the coal industry's abuses of his Appalachian community. He showed some of his drone footage of mountaintop removal and the sludge dam near his home, which presently holds about 8 billion gallons of toxic coal waste. The event, hosted by MSU Greenpeace, also included a screening of the film Blood on the Mountain, a 2017 International Documentary Association award nominee.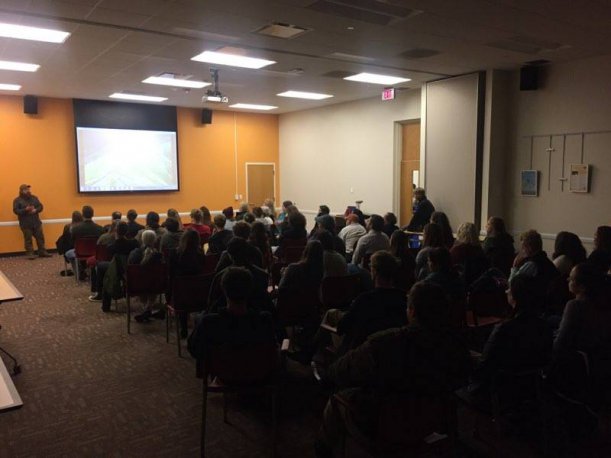 The Show and Tell Energy Education and Policy (STEEP) project includes trips such as this to highlight the devastating consequences of mountaintop removal and other coal impacts and demonstrate the urgent need to switch to renewable energy. You can support this work with a tax-deductible gift at http://crmw.net/donate.php.
The STEEP project includes installing a solar electric system at the Judy Bonds Center for Appalachian Preservation, for which we've been approved for a grant from the Appalachian Stewardship Foundation. We also need to install a battery backup to provide power during power outages, since the system is will be grid-tied. To make the most of the project, we also need to cover travel costs for trips such as this and to cover Junior's work to do the showing and telling, both on the road and giving tours to visiting journalists and student groups.
The Solutions Project has offered a $10,000 challenge grant if we're able to raise the remaining project total of $60,000 by the end of the year. With the ASF grant and generous donations, we've raise over 40% of that. Please consider chipping in at http://crmw.net/donate.php to help us meet this challenge and continue doing a critical part of our work. Thank you!