Beckley, WV - The Office of Surface Mining and Reclamation and Enforcement (OSM) held an open house at the Beckley-Raleigh County Convention Center today to collect public comments in order to develop a more thorough Stream Protection Rule. The OSM will hold a total of nine open houses throughout the country, the last one set for July 29th. Those who are unable to attend the open houses may submit their comments via email, postal mail, or hand delivery before July 30th (see below for details).
The open house featured court reporters collecting oral comments, 11 poster boards detailing various aspects of the proposed stream law, and a comment sheet to be filled out and turned in at the registration table. Besides the circle of OSM officials in the center of the room, the half a dozen police officers standing at the front, and the court reporters at their desks in the corners, the room was largely unpopulated.
Key elements of the rule that are being considered include: the definition of "material damage to the hydrologic balance outside the permit area"; the inclusion of fills in the restrictions of mining activities near streams; the limitation of variances; the prohibition of mountain-top removal mining; monitoring requirements; the reforestation of abandoned mines; coordination between regulatory organizations; and the definition of a stream.

While the posters touted large friendly pictures, the explanations seemed to include an unnecessary amount of regulatory lingo for a comment session open to the general public.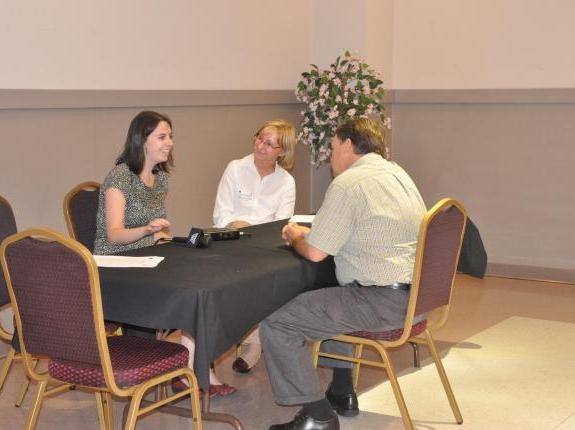 Court Reporters Meet with Citizen

Send your comments to the OSM by July 30th
Email: Send to sra-eis@osmre.gov with the Docket Number OSM-EIS-35 in the subject line of your message.
Postal mail, hand delivery, or courier: Include the Docket Number OSM-EIS-35 at the top of your message and send to:

Office of Surface Mining Reclamation and Enforcement
Administrative Record
Room 252–SIB
1951 Constitution Avenue, NW
Washington, DC 20240