Breathtaking Aerial Video of Our Community
Nov 14, 2015
Wow. Just watch the new video at https://vimeo.com/145592303 to get a bird's-eye view of the Judy Bonds Center and the mountaintop removal site and toxic sludge dam above our communities. You can see why we do what we do to protect residents from the threats just over the ridge.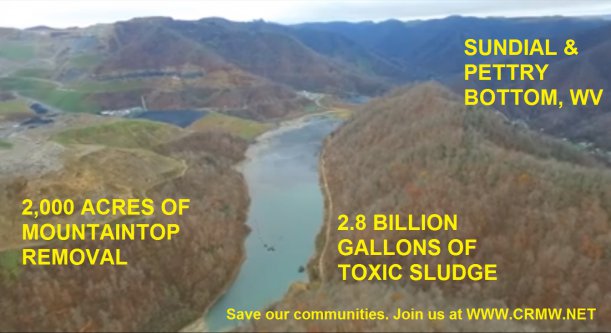 This is Alpha Natural Resources' 2,000-acre Edwight mountaintop removal site over the communities of Naoma, Pettry Bottom, Sundial, and Edwight, which is supposed to be idled at the end of November. The green, flat area is "reclaimed" with topsoil substitute and a mix of non-native grass seed, fertilizer, and a binding agent to make it stick to the ground and rocks. There are no plans for this site to have any sort of economic development or benefit to the community.
All 2,000 acres are designed to drain into the 2.8-billion-gallon toxic sludge lake that you see in the video. Held back by a seeping dam made of course coal refuse, this poison goo sits 400 yards upstream of the old Marsh Fork Elementary School and threatens Edwight and all communities downstream. This is 20 times the volume of the Buffalo Creek sludge dam disaster that killed 125 West Virginians in 1972. It's also operated by the same company responsible for the Oct. 2000 sludge disaster in Martin County, KY, in which over 300 million gallons broke through the dam floor into abandonded underground mines and into the adjacent streams and rivers.
You can help us protect our communities by making a tax-deductible donation today at http://crmw.net/donate.php. Thanks for watching.