It's Giving Tuesday! Donation matching begins at 8AM Eastern Time! Starting at 8AM EST (7AM CST, 6AM MST, 5AM PST), the Bill & Melinda Gates Foundation will match up to $2 million total in Facebook donations to nonprofits. The match limit is $50,000 per nonprofit and $1,000 per fundraiser or donate button. While it lasts, WHICH WON'T BE LONG, this is a great way to have your donation to STEEP matched and get that much closer to meeting the STEEP challenge. And Facebook is waiving all donation fees today. Please go here and donate as soon after 8AM EST as you can to have your donation matched.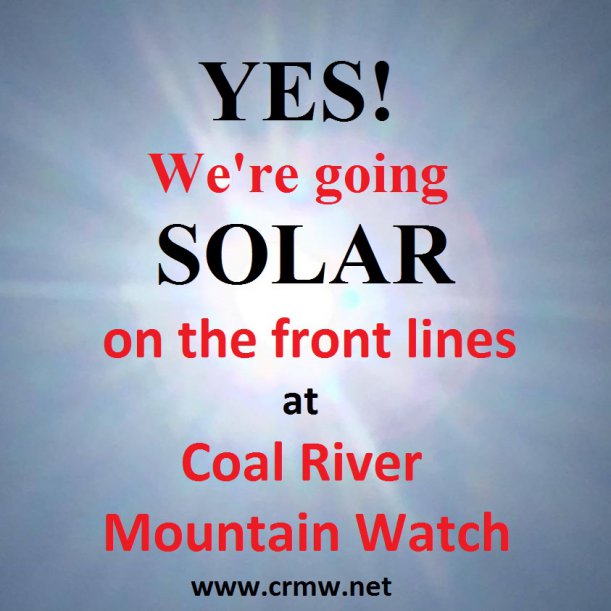 The Show and Tell Energy Education and Policy (STEEP) project will install a solar electric system at the Judy Bonds Center for Appalachian Preservation in Naoma, WV, on the front lines of extreme coal extraction. STEEP will educate about solar as a viable source of energy and employment, show firsthand the deadly impacts of dirty coal in our area, and promote policy to transition from coal to renewables. For example, our outreach coordinator Junior Walk is on the road, speaking to a group in Michigan tonight. And our Coal River Environmental Education for Kids (CREEK) participants will benefit by learning about clean energy at the source.
By replacing our coal-fired electricity with clean solar generation, we will annually keep over 10,000 pounds of coal in the ground and over 19,000 pounds of carbon dioxide out of the atmosphere. With battery backup, the Judy Bonds Center will provide a central gathering place for disasters and power outages, directly across the road from the post office. Residents will be able to contact loved ones, check emergency updates, have a hot meal, have a hot shower, and, if necessary, have a warm bed for the night.
The Solutions Project has offered a challenge grant of $10,000 if we can raise the remaining project total of $60,000 by the end of this year. The Appalachian Stewardship Foundation has approved a grant of $18,500 for the installation of the battery-ready solar array. With other donations, we've raised over 37% of the $60,000 needed to get the challenge grant.
If you're not on Facebook or prefer to donate another way, here you go.
The following wont' have a matching donation from the Bill & Melissa Gates Foundation, but they'll still apply toward the Solutions Project challenge grant:
Donate here and write "STEEP" in the note.
Text "STEEP" to 1-844-544-7171.
Or, last but not least, send a donation with "STEEP" in the memo to
CRMW
P.O. Box 303
Naoma, WV 25140.
Thank you for supporting us on Giving Tuesday and every day!